Two Buttons Meme Generator

Add Text
Submit Img
Anchor
Modify floating element =>
rotate
Fade in
Fade out
scale +
scale -
X
edit me
Select font
Bangers
arial
Arial Black
Impact
Tyko
Sans
Tahoma
Bangers
BatMan
Cooper
Eddie
Excalibur
Fintail
Kings-Landing
LeadCoat
LittlePiggy
PLUMP
Sketchy
PlainOmatic
Sniglet
Star-Trek
Team-Work
Actionist
Blue Six
Che-Lives
Destroy
Nordic
Sinkingship
typewriter
Wit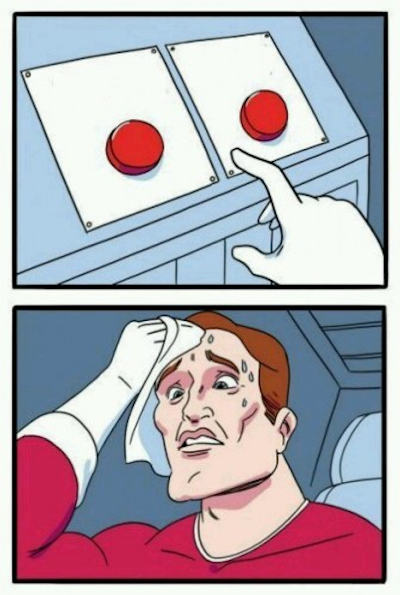 View Recent Library Items

Hide Library
Recent Library Items
Resize stage to fit a meme?
When using the snapshot button, you can help get the word out about our site by keeping the watermark on.
Decisions can be hard. Making any kind of choice will change your life forever as well as cause a ripple through the universe. Use this Two Buttons meme template to show how difficult making the right choice can be.
on